Mass cytometry (CyTOF) is a form of single cell analysis, akin to flow cytometry, that employs a modified time-of-flight mass spectrometer to measure relative protein abundance. Utilizing a 42 metal catalogue, we have developed panels for both human and mouse immune cell subsets, along with other cell classifications. With 479 unique markers (290 human and 189 mouse), any user can create their own panel from our inventory.
Panel Design
Knowledge of metal cross-talk and antibody sensitivity/relative protein abundance is used to carefully design each panel. Following design and conjugation, all antibodies are validated on the CyTOF machine with a standard staining procedure.
We are in the process of expanding the channels available for detection. When long term stability has been determined, we will have the ability to detect over 40 individual channels. This channel number is excluding metals used for viability, DNA intercalator (cell ID) and single cell barcoding.
If a marker is desired that is not available in the current inventory, one can make a custom request. These custom conjugations allow the user to collaborate with us to find the best metal choice to fit their panel and potentially the core inventory.
Through this centralized resource, collaborations and panel expansion is readily accomplished.
If interested, contact Katya Murzin at emurzin@bwh.harvard.edu or John Pulford at jpulford@bwh.harvard.edu
Procedure for Antibody Requests:
Browse either the human or mouse CyTOF antibody lists for markers of interest. The antibodies marked in blue have more than one metal option.
Using the CyTOF antibody request template, create a new file with your requested markers along with their respective clones and desired metal conjugates and email this file to Katya Murzin at emurzin@bwh.harvard.edu or John Pulford at jpulford@bwh.harvard.edu

Title this sheet with your full name and either human or mouse

Within the file, indicate how much volume you want of each antibody.

The aliquots come in 40uL vials and each request must be in multiples of 40uL

Indicate the home institution of requester

Enter Fund # for Partners Healthcare Institutes (i.e. BWH or MGH) or a PO# for all other institutes:

A check must be sent to the following if a PO is generated: Brigham and Women's Hospital

Mail to:
Partners Healthcare
ATTN: Research Core Analyst
Suite 750
399 Revolution Drive
Somerville, MA 02145

Include invoice number on the check
Credit card payments are accepted upon request. 

The user's order will only be completed once this request form has been submitted and verified.
Please plan for two weeks between time of order and order completion. Orders may be finished sooner, however this depends on the volume of orders received.
Standard vs. Custom Conjugates:
Standard Conjugates:
– Every Antibody is aliquoted in 40 uL vials
– 100 ug of antibody is conjugated at a time
– Final yield of ~70% is obtained (measured by NanoDrop)
– Conjugated antibody resuspended in 200 uL of Antibody Stabilizer for a final concentration of ~350 ug/ml.
Metal Change:
– The user desires currently available antibody on different metal than our inventory
– The user must purchase entire 200μl batch when metal is switched that does not fit our Resource's inventory plan.
– The labeled metal change antibodies are validated by us
Custom Conjugations:
– For unique antibodies that are not currently in our inventory
– Antibody procured by user and sent to our lab
Requirements for Custom Antibodies
 Purified and Carrier Protein free (i.e. BSA and Gelatin)
 100 ug of antibody is needed for conjugations
– Due to individual user expertise, custom antibodies are not validated by us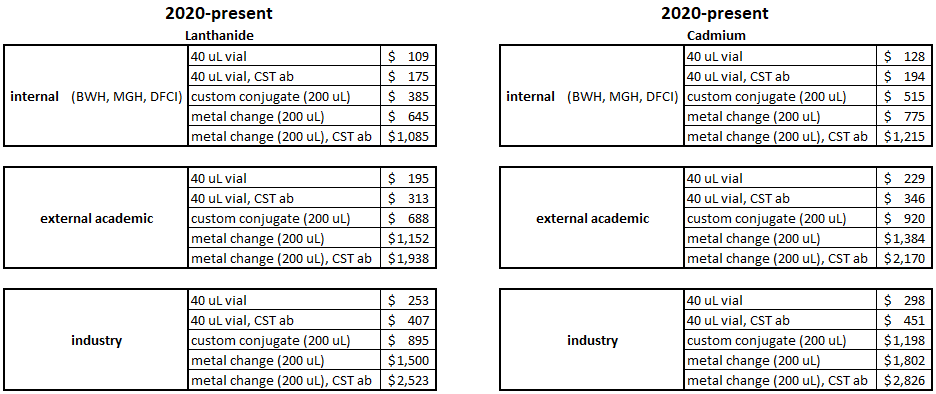 Note: Pricing for labeled antibodies from Cell Signaling Technologies are higher due to high antibody cost.
ADDITIONAL RESOURCES 
Technical Resource
Optimized protocols specific to CyTOF include:
If a more formal collaboration is sought by the user, these protocols can be shared and the user may schedule time to observe CyTOF stains done in our lab. Introduction to CyTOF data analysis tools will be provided. This requires assurance of authorship on all related CyTOF publications.
All protocols have upstream techniques optimized to retain single cell suspension integrity following cryopreservation and through the entirety of the staining procedure.
If interested, contact Katya Murzin at emurzin@bwh.harvard.edu or John Pulford at jpulford@bwh.harvard.edu
TECHNICAL CONSULTATION 
Our Core also offers technical consultation. We can provide the following in-depth services:
Panel design
Experimental layout and design
Protocol/troubleshooting advice
Insight into the latest CyTOF reagents and tools
Introduction to data cleanup and analysis tools
For consultations, our Core charges $100 per hour. Consultations will be booked in 30 minute time slots. Interested users will request consultation time by email. If interested, contact Katya Murzin at emurzin@bwh.harvard.edu or John Pulford at jpulford@bwh.harvard.edu